Discover more from Extra Fine Writing
celebrating the extra side of fine writing
The BENU Parrot is the perfect pen for chaotic business dominance
Rule the boardroom
Think back to the last time that you absolutely dominated a critical negotiation in your work. 
How did you feel?
And what would you give to have that feeling every time you walked into a business meeting?
Living in that golden moment is attainable—and you don't need a business coach, an executive MBA, or a Savile Row suit. You don't even need to say a word. You just need a simple visual cue, an object that lets everyone know you are an individual of formidable means and skill, a leader of unparalleled acumen and vision, and the room belongs to you.
That object is the BENU Parrot fountain pen.
The perfect pen to bring to a bet-the-business meeting when your preferred negotiation tactic is chaos, the BENU Parrot tells everyone in the room that you are the one in control or, perhaps, the one on bath salts. Either way, everyone will be watching to see what you do next. 
---
Thanks for reading Extra Fine Writing! Subscribe for free to receive new posts and support my work.
---
Indeed, the Parrot is an elegant, efficient way to communicate that you are a person of unique stature. Some fine writing implements signal that you are an up-and-coming executive who flies on the company jet; the BENU Parrot signals that you are an independently wealthy eccentric who keeps a jaguar for a pet and flies on the back of an endangered condor bred specifically for that purpose. 
The body of the BENU Parrot is sleek and feathery, made of the finest parrot-colored resin and infused with a generous swirl of gold glitter. Its lightweight, well-balanced form invites you to gesture manically with it as you speak, transforming even your most incoherent word salad into gorgeous kinetic art as it floats through the air. 
The cap of the pen is substantial and features a parrot face with sparkling gems for the eyes. When you first withdraw the pen from your pocket, its eye-catching appearance will force you to wonder: was this once an idol worshipped in less enlightened times? And if so, will using it imbue you with strange avian powers and/or activate an ancient curse that harkens the beginning of a birdpocalypse that you are destined to prevent? There is only one way to find out.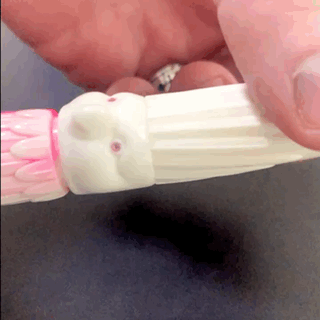 The Parrot's cap is secured with threads, which is ideal for when your competitor proposes unfavorable terms and you want to punish them with a long stretch of uncomfortable silence. Each time you turn the cap in an excruciatingly slow fashion, sighing deeply as if you are negotiating against a disappointing child, your counterparty is presented with a fresh opportunity to lock eyes with the Parrot, lose their train of thought, and have no choice but to bend to your will.
If poor lighting or an unfortunate conference room layout prohibits the act of uncapping the pen from cowering your opponents into submission, note that the cap posts securely on the end of the pen, allowing for the Parrot's unblinking eyes to scan the room with the same unsettling confidence that you yourself possess.
The Parrot is a cartridge converter pen and is outfitted with a gold-colored #5 steel nib made by Schmidt. The smaller nib wisely ensures that attention is focused on the parrot's head—where it belongs—without distraction from an excessively large or garish nib. 
There are five variants of the BENU Parrot—purple, blue, green, yellow, and pink—and one's imagination can truly run wild when considering what might happen if all five specimens were united on the same desk.1 That, however, will be no easy task: the BENU Parrot has retired from the primary market and must be purchased from collectors, with the limited number in circulation only increasing its appeal. 
You can try your luck on eBay here (link); current BENU pens can be purchased directly from BENU (link) or BENU retailers (list here).2 
Your Turn: Discussion Questions
Which industries have you dominated using this pen?
The pen shown is named Manny, a name it whispered to me in a fever dream. What's the name of your Parrot?
Do you have a purple one you are willing to part with?
1
Extra Fine Writing disclaims all liability for any reality-altering or world-ending events that may occur if you position all five variants of the Parrot in the shape of a pentagram with their eyes locked on each other and further advises actually just forget the earlier part of this sentence everything is fine don't worry about it.
2
The pen shown was purchased at a pen show with my own money. The cost was not nearly enough.